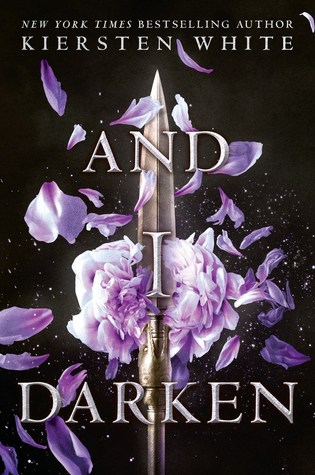 And I Darken by Kiersten White
Genre: Young Adult
Published: 7 July 2016
Rating: ★★★★☆
Goodreads // Pre-order on Book Depository // Pre-order on Amazon
Review
This book is bad-ass.
And good. Oh so good.
Lada is one heroine you do not want to mess with – anti-heroine, I should say, because she is most definitely not your conventional idealistic protagonist. She is strong, determined, purposive and takes no shit from anyone. And I mean anyone. Even the sultan. Take that Ottoman Empire.
Even as a child her nurse realised Lada was not your typical delicate princess.
"She was contrary and vicious and the meanest child the nurse has ever cared for. She was also the nurse's favourite. By all rights the girl should be silent and proper, fearful and simpering.
But in Lada she saw a spark, a passionate, fierce glimmer that refused to hide or be dimmed. Rather than trying to stamp out that fire for the sake of Lada's future, the nurse nurtured it. It made her feel oddly hopeful."
I loved Lada, right from the beginning. I loved her despite her mean streak, and her apparent love for violence and physical aggression. I loved her despite her imperfections because she was more than just a mean-spirited spoilt princess, hell-bent on making everyone's lives around her miserable. She was real and a product of her circumstances. As a female she was viewed as next to worthless by her father, and so she does what she has to in order to fight for his love, to show him that she is worthy. She never lets her guard down and does not trust anyone, but she loves and protects those that love her.
Lada is cunning and smart, and by no means swayed by emotion. When their tutor beats Radu, her younger brother, Lada feigns disinterest. Where a typical heroine would stand up for justice and stop her brother being hit, Lada doesn't. She does this not out of cruelty, but in in order to protect him. She understands the rules of the game and is willing to play by them in order to win.
"Control was power. No one would make her lose it. And eventually the tutor would realise that she would let him hit Radu over, and over, and over. And only then would Radu be safe."
The story is set in the mid 1400's and a is work of, fairly accurate, historical fiction. Obviously the author took liberty with the story, but the setting of the Byzantine and Ottoman Empire, and the characters that appear in it, are nearly all based on actual historical figures. Mehmed I, Mehmed II, Radu, Bogdan, Vlad are all actual historical figures. Lada is also based on a historical figure, Vlad the Impaler, but is just a female version. Even Mara, one of the wives of Mehmed I is an actual historical figure, portrayed exactly as I learnt about her from my Serbian parents. The daughter of a Serbian Monarch, whose betrothal was an attempt to prevent an invasion of Serbia from the Ottoman Empire.
The book was clearly well researched but didn't read like a historical text book. At the heart of the book was a quest for power – every character wanted power for their own purpose, and every character learnt how to harbour power in their own way. Radu harboured it subtly, through learning about alliances and the inner workings of the courts, while Lada harboured it through aggression, learning war-tactics and overcoming the men in battle.
Lada's and Radu's relationship was perfectly matched and wonderful to read- it's a love/hate relationship of a brother and sister who could not be more different, but who balance each other out perfectly. I loved the way it was described here:
"If Lada was the spiky green weed that sprouted in the midst of a drought-cracked riverbed, Radu was the delicate, sweet rose that wilted in anything less than the perfect conditions."
All in all, this book was everything I hoped for. It had mystery, and rivalry, and betrayal and romance – and all were found in the most unexpected places.
Thank you to Net Gallery for providing me with an advanced copy in exchange for an honest review.